Science Highlights
April 29, 2021
Insights, lessons learned after a year of transforming COVID-19 testing—a special journal issue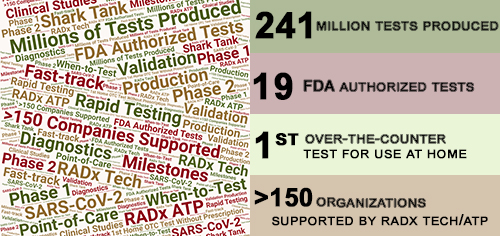 One-year into implementation of the National Institutes of Health's Rapid Acceleration of Diagnostics (RADx) initiative, the Institute of Electrical and Electronics Engineers (IEEE) Open Journal of Engineering in Medicine and Biology has dedicated a special April 29, 2021, issue to exploring the innovative structure and operation of the RADx Tech program. As one of four components of the NIH RADx initiative focused on rapidly advancing COVID-19 testing technologies, RADx Tech has worked across health agencies, academia, not-for-profit organizations and the biotechnology industry to produce COVID-19 tests in the United States, dramatically increasing testing capacity and creating new testing platforms, such as at-home tests. 
"NIH's RADx Tech program, highlighted in these reports, has turbocharged the development, scale-up, and deployment of powerful testing platforms. Together, the reports provide a unique view of how our innovation and entrepreneurial community has responded with unprecedented speed and impact at a time of great public urgency." said Bruce Tromberg, Ph.D., director of the National Institute of Biomedical Imaging and Bioengineering and leader of the RADx Tech program. "Accessible screening and surveillance testing will continue to help us manage COVID while providing essential new capabilities for responding to future pathogens, variants and other diseases." 
The technology development and commercialization process for diagnostics and other medical devices typically takes three to seven years; but RADx Tech and its counterpart, RADx Advanced Technology Platforms (RADx ATP), condensed this into a matter of months.
RADx Tech/ATP have streamlined processes to improve testing, screening and surveillance to advance global health, both for the current pandemic and to meet the challenge posed by pathogens in the future. The program has supported about 150 companies and advanced nearly 50 cutting-edge diagnostics in development around the country. By March 2021, these companies had established capacity to produce up to 1.9 million tests per day.  
RADx Tech and ATP leverage methodologies developed by the Consortia for Improving Medicine with Innovation & Technology (CIMIT), based at Harvard Medical School and Massachusetts General Hospital (MGH). The CIMIT approach is utilized by the Point of Care Technology Research Network (POCTRN), created by NIBIB several years ago to facilitate point-of-care technologies and to provide expertise and resources to address early barriers to commercialization. 
Collectively, 107 co-authors of eight articles in the special issue describe operational elements of RADx Tech vital to its success, including: 
Clinical review for in-vitro diagnostic test development 
The multi-institutional, transdisciplinary test verification team 
Infrastructure for large-scale manufacturing and deployment of tests.  
In an editorial preceding the topical articles, Steven Schacter, M.D., and John A. Parrish, M.D., co-principal investigators of the POCTRN coordinating center, describe the RADx Tech program as "a new paradigm for medical technology development and a validated model for the United States to use and adapt when challenged by another national healthcare emergency."
The special issue is open access, here.
The authors acknowledged funding from NIBIB (EB015408, EB007958, EB027690), the National Heart, Lung, and Blood Institute (HL143541) and the National Center for Advancing Translational Sciences (TR000454).
About the Rapid Acceleration of Diagnostics (RADx) initiative: The RADx initiative was launched on April 29, 2020, to speed innovation in the development, commercialization and implementation of technologies for COVID-19 testing. The initiative has four programs: RADx Tech, RADx Advanced Technology Platforms (ATP), RADx Underserved Populations and RADx Radical. RADx Tech and ATP, led by the National Institute of Biomedical Imaging and Bioengineering (NIBIB), leverages the NIH Point-of-Care Technology Research Network. The RADx initiative partners with federal agencies, including the Office of the Assistant Secretary of Health, Department of Defense, the Biomedical Advanced Research and Development Authority, and U.S. Food and Drug Administration. Learn more about the RADx initiative and its programs: www.nih.gov/radx.