Magnetic Resonance Imaging
Magnetic Resonance Imaging
Program Director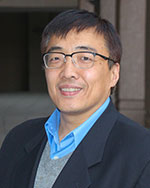 Program Director
This program supports the technological development of in vivo MR imaging and MR spectroscopy, for both animal and human research and potential clinical applications.
Emphasis
The emphasis is on the development of MRI hardware and methodologies, including image acquisition and reconstruction techniques, that would improve the speed, spatial resolution, information content, efficiency, robustness, quality, patient experience, and safety. The emphasis should be on technological development rather than detailed applications to specific diseases or organs.
The program covers the development of new MRI techniques, methods and tools broadly, which include but are not limited to:
fast MRI
high and ultra-high field MRI
pulse sequence and image reconstruction
MRI of new contrast mechanisms
design and implementation of novel magnets, gradients, radio-frequency coils, and other apparatus for in-scanner applications
combination of MRI with other modalities with an emphasis on MRI hardware development
in vivo MR Spectroscopy and spectroscopic imaging
MRI of tissue properties, structure, metabolism, function and physiology
Dr. Paul Thompson discusses the Alzheimer's Disease Neuroimaging Initiative (ADNI), an imaging project that attempts to discover the best predictors and measures of Alzheimer's Disease.
Dr. Paul Thompson talks about the work that he does at the Lab of Neuro Imaging (LONI) at UCLA. He discusses brain health, the latest brain imaging technology and projects like ENIGMA, which involves a world-wide effort to create a brain database.
Dr. Paul Thompson discusses the possibilities of combining the latest brain imaging technology with the study of genetics.
This short video briefly highlights 6 cool technologies that your tax dollars have helped to fund.