Program Director
The United States has the highest annual per-capita health expenditures of developed countries, yet its population still faces significant health challenges. Many changes to the system are being proposed to address current inadequacies. To respond to the needs of an increasingly unhealthy population comprised of individuals with multiple chronic conditions, one goal of these changes is higher quality care at reduced cost, with a shift in focus from utilization of specialized care for the treatment of late-stage disease to an emphasis on patient-centered approaches and coordinated care teams that promote wellness and effective disease management. The evolving healthcare system includes new delivery models in which primary care physicians and nurses are assuming more significant roles, with the patient more involved in decision-making and self-care. These changes require the development of inexpensive and easy-to-use medical devices and information sharing tools that provide timely health status information at the point of care.
To address these challenges, the NIBIB created the Point-of-Care Technologies Research Network (POCTRN) in 2007. POCTRN's purpose is to drive the development of appropriate point-of-care diagnostic technologies through collaborative efforts that merge scientific and technological capabilities with clinical need.
Each POCTRN Center performs the following functions:
Assessment of clinical and user needs to inform device design and further define publicly available clinical needs information
Evaluation of promising point-of-care prototype devices from the perspective of device performance and potential for clinical impact
Completion of clinical testing appropriate for the stage of development of the chosen prototype and the target clinical application, to facilitate translation and commercialization
Training and education of relevant stakeholders in the development and utilization of POC technologies, including technology developers, industry partners, practitioners and the lay community (as potential users)
Development of partnerships with industry and other stakeholders to facilitate commercialization
Utilization of Network collaboration as needed to achieve goals and increase visibility of point-of-care testing
Opportunities for collaboration with each Center can be identified by contacting the POCTRN Program Director, Tiffani Lash.
Join the NIBIB Point of Care Technologies listserv to receive email notices regarding point of care technology announcements and POCTRN center solicitations.
Recent News/Events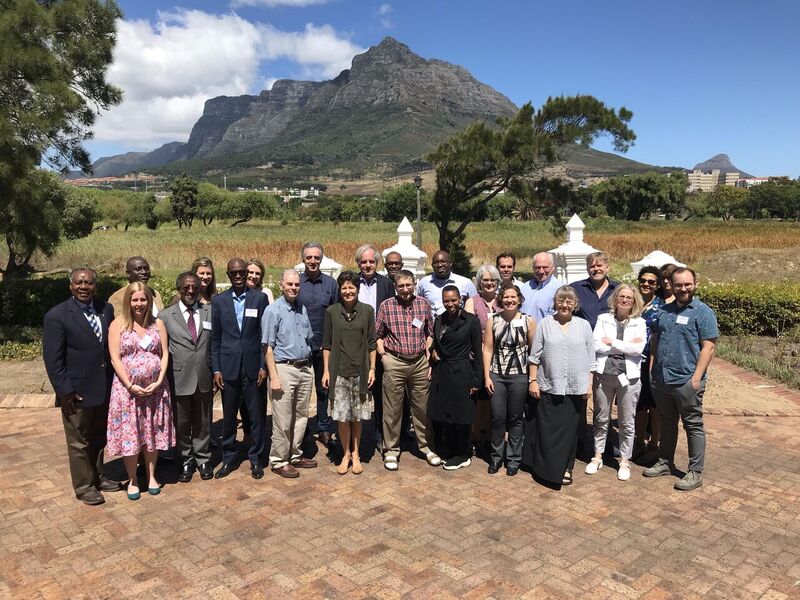 The C-THAN Research Center held its first symposium and workshop in Cape Town, South Africa in January 2019. Clinical and engineering researchers from the project's multiple sites gathered to advance the Center's mission to support the development of and facilitate the commercialization of  a pipeline of POC technology designed to meet the clinical needs of people who live with HIV/AIDS in low- and middle-income countries. (Image courtesy of C-THAN Research Center, Northwestern University).
NIBIB Supported Projects
1-U54-EB015408-06- Coordinating Center
Point of Care Technology Research Center- Coordinating Center
                           
2-U54-EB007958-11- Research Center
Center for Point-of-Care Technologies Research for Sexually Transmitted Diseases
 
1-U54-EB027049-01- Research Center
The Center for Innovation in Point of Care Technologies for HIV/AIDS at Northwestern (C-THAN)
 
1-U54-EB027690-01- Research Center
Atlanta Center for Microsystems Engineered Point-of-Care Technologies (ACME-POCT)
             
1-U54-HL143541-01- Research Center
The Center for Advancing Point of Care in Heart, Lung, Blood and Sleep Diseases