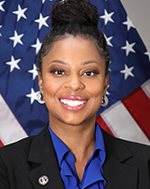 Program Director
The evolving healthcare system includes new delivery models in which primary care physicians and nurses are assuming more significant roles, with the patient more involved in decision-making and self-care. These changes require the development of inexpensive and easy-to-use medical devices and information sharing tools that provide timely health status information at the point of care (POC). NIBIB created the Point-of-Care Technologies Research Network (POCTRN) to drive the development of POC technologies through collaborative efforts that merge scientific and technological capabilities with clinical need.
Announcements
Save the Date: November 28-29, 2023 | NIH campus, Bethesda, MD
Join NIH and colleagues to share best practices, learn about leveraging resources and explore new opportunities to collaborate in support of the rapid development, commercialization, and implementation of innovative point-of-care and home-based diagnostic technologies. 
Join the NIBIB Point of Care Technologies listserv to receive email notices regarding point of care technology announcements and POCTRN center solicitations.
Current POCTRN Network Centers
Each POCTRN center performs the following functions:
Assessment of clinical and user needs to inform device design
Evaluation of POC devices for performance and potential for clinical impact
Completion of clinical testing to facilitate translation and commercialization
Training and education of relevant stakeholders in the development and utilization of POC technologies
Development of partnerships with industry and other stakeholders to facilitate commercialization
Point-of-Care Technology Research Coordinating Center
PI: John Parrish, Massachusetts General Hospital, Boston, Massachusetts
The center maintains a sustainable national network that pairs unmet needs in the delivery of primary care with promising emerging technologies, and provides resources needed to accelerate clinical application of technologies developed by the four Research Centers.
Center for Point-of-Care Technologies Research for Sexually Transmitted Diseases
PI: Charlotte Gaydos, Johns Hopkins University, Baltimore, Maryland
The long-term goals of the center include addressing the epidemics of STDs/HIV in the U.S. and in resource-poor settings by developing novel POC tests and accelerating use of current ones to reduce health inequities and improve the sexual health of individuals worldwide.
The Center for Innovation in Point-of-Care Technologies for HIV/AIDS at Northwestern (C-THAN)
PI: Robert L. Murphy, Northwestern University, Chicago, Illinois
The center will support development of a pipeline of needs-based POC technologies critical for improved management of HIV/AIDS infected individuals in low and middle-income countries. The center will harness the existing expertise of a 17-year research and clinical network of collaboration addressing infectious diseases in sub-Saharan Africa.
Atlanta Center for Microsystems Engineered Point-of-Care Technologies (ACME-POCT)
PI: Wilbur A. Lam, Emory University, Atlanta, Georgia
The center will support inventors from across the country who are developing microsystems-based POC technologies for cardiac, pulmonary, hematologic, and sleep applications. The center will define their specific clinical needs, conduct clinical validation, and refine their technology, with the objective of accelerating the path to translation from proof-of-concept to clinical use.
The Center for Advancing Point-of-Care in Heart, Lung, Blood and Sleep Diseases
PI: David D. McManus, University of Massachusetts Medical School, Worcester, Massachusetts
The center will evaluate and support POC technologies in heart, lung, blood, and sleep disorders for diagnosis, monitoring, and interventional delivery by addressing unmet medical needs, supporting pathways to adoption at the POC, and training of and dissemination to relevant stakeholders.
Related News & Events
November 28, 2023 - November 29, 2023
The conference will bring together researchers, technology developers, clinicians, and industry partners from all NIBIB Point of Care Technology Network (POCTRN) centers, regulatory administrators, non-government organization (NGO) leaders, and investors network to discuss complementary expertise and resources to accelerate point-of-care and home-based diagnostic technology innovation, validation, and commercialization.