Category: Diagnostic Devices/Methods, First Prize: $10,000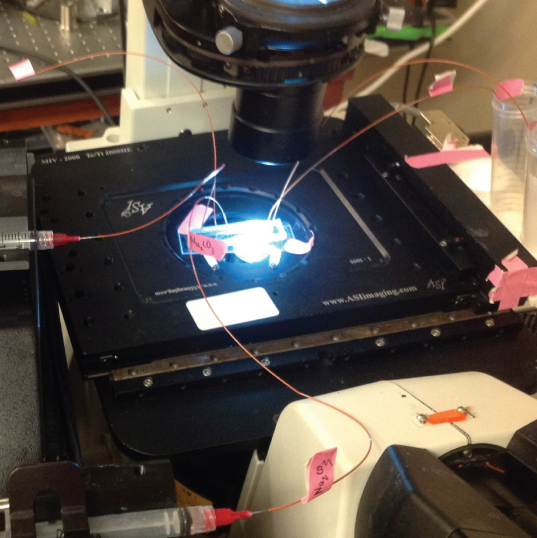 Personalized Monitoring of Enzyme Dynamics (P-MED), University of California Los Angeles
Jaideep Dudani, Derek Go, Ankit Gupta, Gayane Kocharyan, Roxanne Loo, and Nova Wang 
P-MED focuses on increasing the ability of doctors to personalize cancer treatments by testing how an individual patient will respond to treatment before starting chemotherapy. P-MED consolidated many forms of technology to create a single device that is able to quickly and automatically measure the enzymatic activity in response to prodrugs, (inactive drugs that, when administered, become active through the metabolic processes of the body). The device could potentially help doctors determine the type of drug and dosages for a specific patient without the need to wait and see how the patient responds to treatment.

P-MED Project.pdf
Watch a video from the P-MED team
Category: Therapeutic Devices/Methods, First Prize: $10,000

Microflora Refinement System, Dartmouth College
Alison Stace-Naughton, Pauline Schmit, Laura Taylor Gray, and Jen Freise
The Microflora Refinement System helps treat Clostridium difficile (C. diff), an infectious intestinal bacterium. C. diff is the number one cause of hospital-acquired diarrhea and can be highly drug resistant, virulent and deadly. The current treatment for this kind of infection is antibiotics, but they are often ineffective. Recently, fecal microbiota transplantation has been proposed as an effective alternative, but the treatment has not gained popularity due to the "ick" factor that comes from having to process the donor feces used to repopulate the gut microflora in the infected patient. The Microflora Refinement System designed by this team automates the process of separating the beneficial microbiota from the fecal matter and could potentially make transplantation more widely available. 

Microflora Refinement System Project.pdf
Watch a video from the MIcroflora Refinement team
Category: Technology to Aid Underserved Populations and Individuals with Disabilities, First Prize: $10,000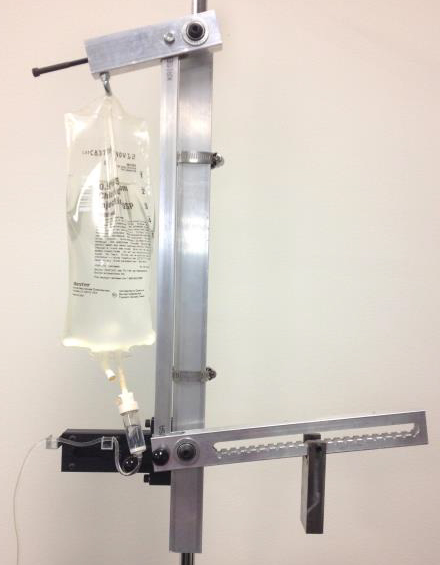 IV DRIP: Accurate, Low-cost, Mechanical Device to Regulate Intravenous (IV) Fluid Delivery for Children in the Developing World, Rice University
Bailey Flynn, Matthew Nojoomi, Michael Pan, Kamal Shah, and Erica Skerrett
The IV DRIP addresses the dangerous problem of over-hydration when treating dehydrated children and elderly patients with IVs. Many clinics worldwide are understaffed and cannot closely monitor a patient's fluid intake. Infusion pumps that regulate the maximum volume of fluids in an IV, as often found in the US, cost between $1,000 and $3,500. IV DRIP is a mechanical, weight-based device that is able to regulate the volume of fluids given to the patient and costs only $80. While the design and construction are surprisingly simple, the project will eliminate the possibility of over-hydration in at-risk patients in an affordable way without placing additional burdens on hospital staff. 

IV DRIP Project.pdf
Watch a video from the IV DRIP team
Honorable Mentions
Category of Diagnostic Devices/Methods
Ballpoint Laparoscope: University of California Berkeley, Neil Ray, Sakthivel Nagaraj, Jeffrey Yang, Nasim Barzanian

Ballpoint Laparoscope Project.pdf
Watch a video from the Ballpoint Laparoscope team
 
Handy Gym: Upper Limb Assessment Device: University of Michigan, Ryan Frisbie, Tyler Bitterman, Adam Naylor, and Kody Young

Handy Gym Project.pdf
Category of Therapeutic Devices/Methods
ChemoPatch: A Next-Generation Cancer Chemotherapy Device: University of Pennsylvania: Nikhil Mehandru, Aaron Perez, Brandon Sim, and Alydaar Rangwala

ChemoPatch Project.pdf
Watch a video from the ChemoPatch team
 
ChitO2-Clot: New Jersey's Science and Technology University, George Ulsh, Dung Le, Jennifer Moy, Maxwell McDermott

Chit02-Clot Project.pdf
Watch a video from the Chit02-Clot team
Category of Technology to Aid Underserved Populations and Individuals with Disabilities
Titan: A Powered Upper Body Exoskeleton: University of Pennsylvania, Nicholas McGill, Elizabeth Beattie, Nicholas Parrotta, and Nikolay Vladimirov 

Titan Project.pdf
Watch a video from the Titan team
 
An Integrated Microfluidic System for Sample Concentration and Extraction: Boston University, Rebecca LaCroix, Michelle Wong, Justine Lo, and Gabriella Stueber

An Integrated Microfluidic System Project.pdf
Distinguished Achievement and NIBIB Lecture/DEBUT Awards Ceremony
Friday, September 27, 2013
10:30am – 12:00pm
Biomedical Engineering Society Conference
Washington State Convention Center, 6E