First Place
AccuSpine, Johns Hopkins University
Clay Andrews, Anvesh Annadanam, Ravi Gaddipati, Luis Herrera, Adarsha Malla, Erica Schwarz, Eric Xie, Bradley Isaacs
AccuSpine addresses the problem of postoperative neurological or vascular complications that result from the more than 20 percent of screws placed incorrectly along the spine during the nearly 500,000 spinal fusion surgeries performed each year in the United States. The undergraduate team of seven students from Johns Hopkins University, Baltimore, designed an improved pedicle probe, a device used to create a path for the screws, aimed at reducing breaches in spinal fusion procedures. The AccuSpine provides feedback to the surgeon through vibrations and LED lights, warning them when a breach is detected.

AccuSpine.pdf
Read more at Johns Hopkins University
Second Place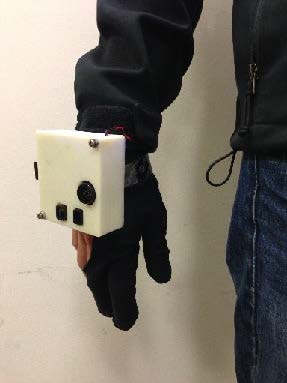 The Sensory Substitution Glove, Boston University
Michaelina Dupnik, William Moik, Poling Yeung
The Sensory Substitution Glove project was submitted by a team of three seniors from Boston University. The glove was created to supplement the traditional white cane used by those with visual impairments. While the cane can help warn people of immediate impediments, it cannot sense obstacles at head-height or give much warning of sudden drop-offs, giving its users very little time to react. Ultrasound and infrared sensors, an accelerometer, a microprocessor, and a small speaker attached to the back of the glove scan the surroundings to provide vibrational signals that give the user a broader understanding of the world around him without limiting the use of the hand. By simply making different gestures, the user can adapt the sensor area, creating a wider or narrower sensing angle depending on the needs of the moment.

Sensory Substitution Glove.pdf
Third Place
Nutriflow, Rice University
Jane Jarjour, Alexa Juarez, Denizen Kocak, Nathan Liu, Mika Tabata
Nutriflow, created by a team from Rice University, Houston, addresses a problem associated with tube feeding of mother's breast milk in infants who are of low birth weight. In current feeding systems, up to 50 percent of the fat content in breast milk can separate from the aqueous portion of milk, adhering to the bag and tube and never reaching the infant. Since the fat contains essential nutrients and calories, this can slow weight gain and cause other adverse health effects. The Nutriflow device is a low cost solution that flips the feed bag at regular intervals which keeps the fat from separating out of the milk. In addition, every five minutes the milk in the tube is diverted from the infant back to the bag for further mixing, reducing the amount of time milk is stagnant. The system has been shown to increase the fat content that reaches the infant from about 58 percent up to 95 percent.

Nutriflow.pdf
Diaper Based System for Neonatal Urine Collection, Dehydration Assessment and Bacterial Infection Detection, University of California, Riverside
Veronica Boulos, Melissa Cruz, Sara Said, Stephanie Tehseldar, Claire Tran
The Diaper Based System for Neonatal Urine Collection, Dehydration Assessment and Bacterial Infection Detection was designed by a team from the University of California, Riverside, to provide an early warning of illness from dehydration or bacterial infection in countries where current technologies are not available. The system is inexpensive and does not require electricity or a clinic to confirm the results. A simple diaper liner changes color to confirm low pH (dehydration) as well as leukocytes, nitrites, and other chemical changes that indicate severe problems, providing a low cost, point-of-care diagnosis.

Diaper System.pdf
Honorable Mentions

R-ARM (Robotic Assistive Reaching Mechanism), Rice University
Sergio Gonzalez, Nimish Mittal, Matthew Nojoomi
The R-ARM is a low-cost, portable, wheelchair-mounted robotic arm that enables individuals to manipulate objects up to 3 lbs and 4.5 ft away.

R-ARM.pdf
Watch a video from the R-ARM team

Simultaneous Concentration and Detection of Biomarkers on Paper,University of California, Los Angeles
Andrew Berg, Erik Jue, Alexandra Kivnick, Phuong Nguyen, Stephanie Wang, Allison Yip
A 3-D, point-of-care, paper-based device that provides significant improvements in the detection limit of traditional lateral-flow immunoassay.

Simultaneous Concentration and Detection of Biomarkers.pdf

Simultaneous Cryoanchoring and RF Ablation for Cardiac Arrhythmia Treatment, University of California, Los Angeles
Theodore Kee, Shahan Khan, Jason Low, Richard Seo, Benjamin Smith, Ke Zeng
The team developed and tested a cryogenic anchor to improve the stability of RF ablation in cardiac arrhythmia treatment.

Simultaneous Cryoanchoring and RF Ablation.pdf

The QRSTee, Johns Hopkins University
Melinda Chen, Billy Kang, Taylor Lam, Akash Premkumar, Caitlin Romanczyk, Quinn Salditch, Ernest So, Sandya Subramanian
A novel wearable cardioverter-defibrillator designed to increase patient compliance, improve quality of life, and save lives.

The QRSTee.pdf
Watch a video from the QRSTee team

The TBeye Tool, North Carolina State University
Jennifer Haley, Titus John, David Lee, Jennifer Price, Ryan Pilgrim
An objective, rapid, mobile concussion screening tool designed for in-field use.

The TBeye Tool.pdf
Watch a video from the TBeye Tool team
Distinguished Achievement and NIBIB Lecture/DEBUT Awards Ceremony
Friday, October 24, 2014
10:30am – 12:00pm
Biomedical Engineering Society Conference
Henry B. Gonzales Convention Center, Cockrell Theater