Science Highlights
March 31, 2020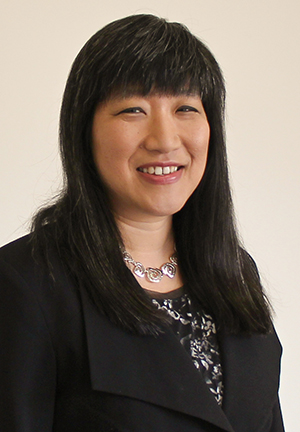 Grace C.Y. Peng, Ph.D., Director of Mathematical Modeling, Simulation and Analysis at the National Institute of Biomedical Imaging and Bioengineering (NIBIB), has been elected to the American Institute for Medical and Biological Engineering (AIMBE) College of Fellows. Cancellation of the annual meeting and induction ceremony prompted AIMBE leaders to invoke special procedures to remotely induct Peng and 156 colleagues. The AIMBE College of Fellows Class of 2020 is recognized for distinguished and continuing achievements in medical and biological engineering.
"Working in the public service, I am deeply honored to be recognized by the biomedical engineering community," Peng said.  "It is a privilege to serve the modeling and technology research communities by supporting and amplifying their great ideas for the future of our health."
Peng is credited with creation of the Interagency Modeling and Analysis Group and the Multiscale Modeling Consortium and is recognized with promoting new neurotechnology development.
"Grace's contributions to the world of medicine, especially in the context of mathematical modeling, have had impacts in the field of biomedical engineering far and wide," said David Rampulla, director of the NIBIB Division of Discovery Science and Technology.  "She is a highly recognized authority and a tremendous asset to the NIH.  Certainly, this is a well-deserved accolade."
Peng has been a program director at NIBIB since its start in 2002, overseeing programs promoting the development of mathematical and statistical modeling and analysis methods; medical simulation tools; and next generation engineering systems for rehabilitation, robotics, neuroengineering, and surgical systems. In 2003, Dr. Peng led the creation of the Interagency Modeling and Analysis Group (IMAG), which now consists of program officers from multiple federal agencies of the U.S. government.  Since 2004, IMAG has supported funding initiatives targeted to multiscale modeling of biomedical, biological and behavioral systems. Since 2006, IMAG has facilitated the activities of the Multiscale Modeling Consortium of investigators. Through these activities, Peng engages in the development and use of intelligent tools and reusable models to accelerate biomedical research and translate scientific knowledge to the clinic and community.
Ranu Jung, Ph.D., Professor of Biomedical Engineering at Florida International University has been a long-time NIBIB grantee. "I personally have benefitted from the guidance of Dr. Peng for over decade and a half," Jung said, "amongst other projects, in the neural-enabled prosthesis work started under her as the program manager."  Peng also was involved in starting up the NIH SPARC and BRAIN initiatives. Jung added that Peng has significantly assisted each of the faculty members and postdoctoral fellows pointed in her direction, "giving guidance to the researchers as they seek to flush out their ideas."
Peng received a B.S. degree in electrical engineering from the University of Illinois at Urbana, and M.S. and Ph.D. degrees in biomedical engineering from Northwestern University. She conducted postdoctoral and faculty research in the Department of Neurology at the Johns Hopkins University. In 2000 she became the Clare Boothe Luce professor of biomedical engineering at the Catholic University of America. Her research focused on developing computational models of the vestibular system in control of the head and neck, and analytical tools for studying the oculomotor system in patients with vestibular dysfunction.
Election to the AIMBE College of Fellows is among the highest professional distinctions accorded to a medical and biological engineer. The College of Fellows is comprised of the top two percent of medical and biological engineers. College membership honors those who have made outstanding contributions to engineering and medicine research, practice, or education and to the pioneering of new and developing fields of technology, making major advancements in traditional fields of medical and biological engineering, or developing/implementing innovative approaches to bioengineering education.
AIMBE fellows hail from the United States and 34 countries and are among the most distinguished medical and biological engineers in academia, industry, clinical practice and government. They include three Nobel Prize laureates and 18 recipients of the Presidential Medal of Science and/or Technology and Innovation.
AIMBE's mission is to recognize excellence, advance the public understanding, and accelerate medical and biological innovation.