Press Releases
August 25, 2023
The National Institutes of Health and the higher education non-profit VentureWell have selected 10 winners and five honorable mentions of the Design by Biomedical Undergraduate Teams (DEBUT) Challenge, who are set to receive prizes totaling $145,000. The awards will be presented to the winning teams during the annual Biomedical Engineering Society conference held Oct. 11-14, 2023.
Now in its 12th year, the DEBUT Challenge calls on teams of undergraduate students to produce technological solutions to a broad spectrum of unmet health needs.
Alongside the National Institute of Biomedical Imaging and Bioengineering (NIBIB) and VentureWell, five NIH institutes, centers, and offices supported the challenge this year, specifically the NIH Office of AIDS Research (OAR), the National Institute on Minority Health and Health Disparities (NIMHD), the National Cancer Institute (NCI), the Eunice Kennedy Shriver National Institute of Child Health and Human Development (NICHD) and the National Institute of Nursing Research (NINR).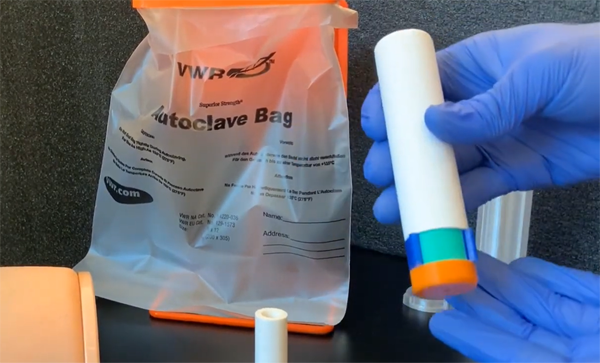 "This year the DEBUT Challenge set a new record for participation with the largest number of entries we've ever seen," said Bruce J. Tromberg, Ph.D., director of NIBIB. "DEBUT students and mentors are working on many of the world's most pressing healthcare challenges, with prize-winning teams recognized for their exceptional ingenuity across a range of topics, including key advances in the rapidly growing area of technology for women's health."
Among the designs from the three teams receiving NIBIB-sponsored awards are a device that could significantly lower the financial barrier to epinephrine injections, a vaginal speculum that provides greater comfort and functionality, and a tool that streamlines the MRI-guided breast biopsy process.
Additional winners include the recipients of the NCI-sponsored prize, who developed a new vaginal dilator meant to offer an affordable and painless therapy for vaginal stenosis, a potentially painful side effect of radiation therapy for cancer.
"NCI is proud to incentivize the development of innovative therapies designed to improve cancer care," said Monica M. Bertagnolli, M.D., director of NCI. "Rewarding the development of innovative solutions by undergraduate scientists through the DEBUT Challenge will help to deliver the latest in cancer innovations to patients and communities, one of the aims of the Biden-Harris Administration's Cancer MoonshotSM."
To identify the award recipients, experts at NIH assessed submissions from 100 teams, consisting of 446 students from 52 universities, across 26 U.S. states and Washington, D.C.
The 10 winning projects are:
NIBIB "Steven H. Krosnick" First Prize ($20,000): EpicPen, Purdue University, West Lafayette, Indiana
The EpicPen is a novel and accessible epinephrin auto-injector, a type of life-saving portable device used to treat anaphylactic reactions. Unlike other injectors, this device features a spring-loaded injection mechanism that enables the injector to be reused, significantly lowering the current high cost of multiple injections.
NIBIB Second Prize ($15,000): Feminora, University of California-Irvine
Feminora's OneSpec is a vaginal speculum that improves on the traditional duck-bill design, which can cause pain by pinching vaginal tissue and can also cause a physician's line of sight to become obstructed during pelvic exams. The new device applies even pressure along the vaginal walls while offering examining physicians a clear view.
NIBIB Third Prize ($10,000): Breast MRI Biopsy Positioning and Immobilization Device, University of Wisconsin-Madison
This new device improves both the efficacy of MRI-guided biopsies and patient comfort by positioning and immobilizing breasts of varying size and shape more effectively than the currently utilized apparatus.

NIH OAR HIV/AIDS Prize ($15,000): FADpad, Georgia Institute of Technology, Atlanta
The filtered adhesive diagnostic pad, or FADpad, is a multi-layered menstrual pad add-on that can be placed onto any pad to collect menstrual blood samples. The user can store and ship the sample to a lab to be tested for human papillomavirus (HPV), which can cause cervical cancer — a cancer that is also closely linked to HIV.
NIMHD Healthcare Technologies for Low-Resource Settings Prize ($15,000): DioTeX, Johns Hopkins University, Baltimore
The DioTeX prototype is a portable rapid diagnostic assay that can detect blood biomarkers for trauma-induced hemorrhage to improve assessment and treatment of internal trauma. This testing device requires minimal training, making it easy to use in low-resource and rural settings.
NCI Technologies for Cancer Prevention, Diagnosis, or Treatment Prize ($15,000): MiaFit, University of California-San Diego
MiaFit is a low-cost expandable vaginal dilator designed to comfortably treat vaginal stenosis, a narrowing and shortening of the vagina that can cause significant pain and discomfort.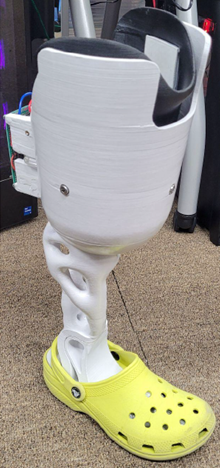 National Center for Medical Rehabilitation Research, NICHD Rehabilitative and Assistive Technologies Prize ($15,000): Adjustable Prosthetic Socket, University of California-San Diego
A new adjustable prosthetic socket is designed to adapt to the daily volume changes in the residual limbs of amputees using force sensing elements and air bladders, avoiding complications associated with poor fit such as sores and skin irritation.
NINR Technologies to Empower Nurses in Community Settings Prize ($15,000): U-Sert, Clemson University, Clemson, South Carolina
The U-Sert is a urinalysis insert that adheres to the interior of babies' diapers to collect and test samples for urinary tract infections, providing a streamlined solution compared to current collection and diagnostic methods.
VentureWell Venture Prize ($15,000): SteadyScrib, Northwestern University, Evanston, Illinois
The SteadyScrib pen set consists of a pen and clipboard designed to counteract Parkinson's disease symptoms that inhibit writing through its wide grip, magnetic attraction between pen and board, and weighted core.
VentureWell Design Excellence Prize ($5,000): SpasTECH, New Jersey Institute of Technology, Newark
The SpasTECH Spastic Arm Simulator is a 3D-printed mechanical arm that can mimic motions associated with the neuromuscular condition spasticity and potentially serve as a teaching tool for clinicians to improve the reliability and objectivity of spasticity assessments.
###
About the National Institute of Biomedical Imaging and Bioengineering (NIBIB): NIBIB's mission is to engineer the future of health by leading the development and accelerating the application of biomedical technologies. The Institute is committed to integrating engineering and physical science with biology and medicine to advance our understanding of disease and its prevention, detection, diagnosis, and treatment. NIBIB supports emerging technology research and development within its internal laboratories and through grants, collaborations, and training. More information is available at the NIBIB website.
About the National Institutes of Health (NIH): The National Institutes of Health, the nation's medical research agency, includes 27 Institutes and Centers and is a component of the U.S. Department of Health and Human Services. NIH is the primary federal agency conducting and supporting basic, clinical, and translational medical research, and is investigating the causes, treatments, and cures for both common and rare diseases. For more information about NIH and its programs, visit https://www.nih.gov/.