Science Highlights
March 23, 2021
RADx portfolio now producing 1.7 million COVID-19 tests per day
NIH has awarded another round of contracts for the development and scaled-up manufacturing of new COVID-19 diagnostic testing technologies. The four new contracts, administered by NIH's Rapid Acceleration of Diagnostics Tech (RADx) initiative, total $29.3 million and will help increase testing capacity at the point-of-care and in labs for COVID-19 surveillance in schools, businesses and communities.
NIH launched the RADxSM initiative to speed innovation for COVID-19 testing. There are four RADx programs: 
Since its inception nearly a year ago, RADx Tech, one arm of the RADx initiative has aimed to support a diverse portfolio of products that address the changing needs of the pandemic. At the start of the pandemic, lab-based technologies were leveraged, adapted, and scaled for COVID-19 testing to quickly increase the U.S. testing capacity.  At the same time, portable devices and mobile labs were also supported to make testing more accessible to hot spots and rural communities across the country at the point of care.   Now, low-cost rapid antigen tests are starting to bring tests into U.S. households to increase the frequency and ease of testing. 
To date, the U.S. Food and Drug and Administration (FDA) has issued 16 emergency use authorizations (EUAs) for COVID-19 diagnostic tests supported by RADx, including the first EUA for a fully at-home COVID-19 test developed by Ellume Health.
By the end of March 2021, the RADx program is projected to deliver two million COVID-19 diagnostic tests and supplies to the U.S. per day. Ellume has produced more than 300,000 of those tests to start bringing testing into households.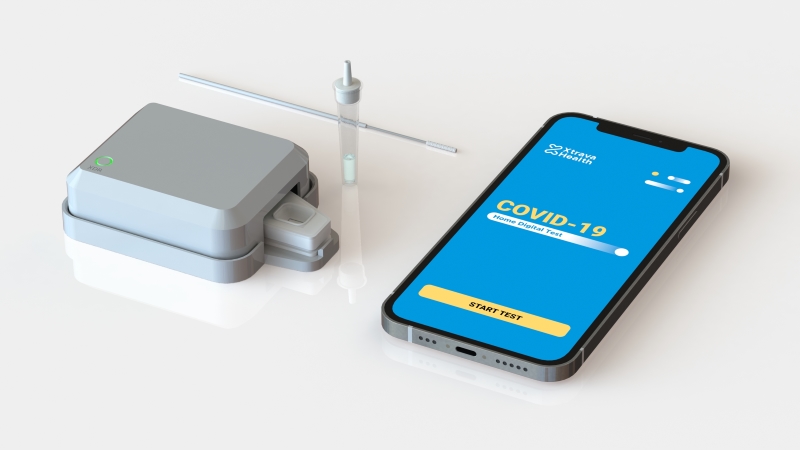 "RADx de-risked and clinically validated its first at-home COVID-19 test (Ellume), which made possible the February 2021 procurement of an additional 8.5 million tests by the U.S. Department of Defense," said Bruce J. Tromberg, Ph.D., director of the National Institute for Biomedical Imaging and Bioengineering and lead for RADx Tech, one of four programs of the NIH RADx initiative. Ellume is expected to simultaneously continue ramping up production to more than 100,000 tests per day for the RADx program while building U.S. manufacturing facilities. 
"As the coronavirus continues to evolve, we must continue to support diagnostic device developers as they advance and adapt technologies to meet the needs of the pandemic," said Dr. Tromberg.
The new RADx Tech contracts include tests that address a variety of gaps in the current COVID-19 testing landscape. New variants of the virus are emerging across the U.S. and it is becoming evident that some therapeutics and vaccines may show decreased effectiveness against certain variants. "We need tests that are able to detect and identify variants. This is crucial to tracking the prevalence of variants and monitoring any impact on treatments and vaccines," Dr. Tromberg adds.
As public health officials allow visitors back to shared public spaces like sports stadiums and concert venues, rapid tests will help curb virus transmission. Tests that are compatible with pooling samples in batches can increase the number of samples tested per day, while cutting back on costs and materials needed for testing.
Since its launch in April 2020, the RADx program has provided technical expertise for product development and validation, regulatory guidance to help projects meet criteria for FDA authorizations, and financial support to help companies scale up the manufacturing of COVID-19 tests. Currently, 29 projects have progressed through multiple phases of review to increase the U.S. COVID-19 testing capacity by more than 180 million tests.
The following companies have achieved key RADx Tech milestones and will receive support for manufacturing and scale up:
Point-of-care tests
GenBody Inc., Cheonan, South Korea
A visually read, single lateral flow rapid test system capable of detecting SARS-CoV-2 that can deliver results within 20 minutes. The test uses nasopharyngeal swabs or nasal swabs and can be performed by a healthcare professional at the point of care. An at-home test is in development for future use.
Xtrava Inc, dba Xtrava Health, Santa Clara, California
A lateral flow immunoassay platform technology that is suitable for antigen detection of SARS-CoV-2 from shallow nasal samples. In the presence of the virus, a visible line develops in 15 minutes or less. The technology can be used in professional, point-of-care settings like drive-thru testing clinics, doctor offices, or nursing homes, as well as for health monitoring by trained staff in shared public spaces like a sports arena or concert venue. A portable digital reader for greater sensitivity and an accompanying smartphone app is currently in development for over-the-counter use of the technology.
Lab-based tests 
PathogenDx, Scottsdale, Arizona
A low-cost, high-throughput test that targets multiple genetic sites in the SARS-CoV-2 virus with high accuracy, so it aims to both detect and identify SARS-CoV-2 variants.  Results are delivered within five hours. The test also has the capability to pool up to six saliva samples for surveillance testing at schools, businesses and communities, performed either manually or on automated platforms at small/medium labs. Currently, 96 samples can be run at a time and the test is compatible with saliva, nasopharyngeal swab, and oral samples.
Meridian Biosciences, Cincinnati, Ohio
A single-use, automated, microfluidic cartridge-based RT-PCR test for the detection of SARS-CoV-2 from nasopharyngeal swabs.  Provides rapid results available in about 45 minutes, which is comparable to the turnaround times of antigen point of care tests. The test is intended for use by qualified laboratory personnel, and regulatory approval will be pursued for use in both high and moderate complexity labs.  In addition, a respiratory panel that includes SARS-CoV-2, Influenza A/B, and RSV in one test, is in development.
The NIH RADx initiative is comprised of four programs that address COVID-19 pandemic challenges and corresponding responses from the scientific community. The RADx Tech and the RADx Advanced Technology Program leverage the Point-of-Care Technology Research Network (POCTRN) administered by NIBIB and spanning multiple leading universities, to manage, evaluate, and validate technologies.   In addition, RADx initiative partnerships with federal agencies, including the Biomedical Advanced Research and Development Authority, the Office of the Assistant Secretary of Health, Department of Defense, and FDA are critical to RADx initiative success.