Bioanalytical Sensors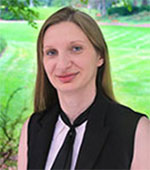 Scientific Program Manager
Bioanalytical Sensors program supports the development of sensor technologies for the detection and quantitation of clinically relevant analytes in complex matrices for use in biomedical applications.
Emphasis
Emphasis is on engineering the components and functionality of bioanalytical sensors. Detection could be based on optical, chemical, electrochemical, and/or physical (such as mechanical, gravimetric, thermal) perturbation of a sample, for example. Examples of technologies of interest include, but are not limited to:
nano-textured substrates for analyte detection
DNA sensors for liquid biopsy
small molecule detectors for diagnosing infectious diseases.
Notes
The development of biomedical devices that use bioanalytical sensors is supported by the NIBIB Point of Care Technologies program. The development of imaging probes is supported by the NIBIB Molecular Probes and Imaging Agents program. 
NIBIB grantee Dr. Carla Pugh discussed the need for practical, tangible educational tools for doctors and surgeons that can give quantifiable information on the effectiveness of the exam or procedure being performed. Some of the tools she developed to help doctors learn to diagnose breast tumors were on display at the technology showcase.