NIBIB-sponsored prizes
"The breadth of projects submitted this year was impressive, and we were especially excited to see students addressing problems highlighted by the global pandemic. These students quickly developed creative yet simple solutions to important medical problems, demonstrating the spectacular promise of the future biomedical engineering workforce."
-Bruce Tromberg, Ph.D., NIBIB Director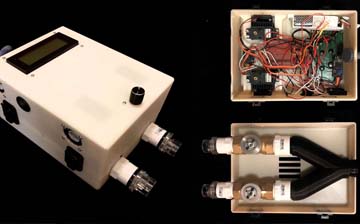 The Steven H. Krosnick Prize (First Prize): The Eucovent, University of South Florida
Abby Blocker, Carolyna Yamamoto Alves Pinto, Jacob Yarinsky
The Eucovent is a medical device that allows for multiple patients to be treated with a single ventilator. The team from the University of South Florida developed a device that delivers different pressures and volumes to each patient from the same ventilator. The Eucovent addresses some of the safety concerns traditionally associated with co-ventilation and the device can be used in low resource scenarios such as rural areas, military settings, and natural disaster scenarios.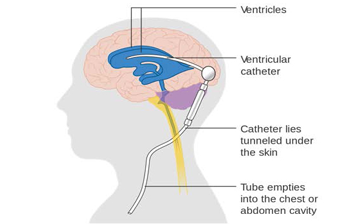 Second Prize: CephaloPump, Rice University
Cooper Lueck, Patrick Bi, Haafiz Hashim, Bill Wang, Irene Kwon, Samuel Brehm
The CephaloPump is a negative pressure pump that was designed to treat low pressure hydrocephalus in patients who cannot be treated with the traditional shunt system. Hydrocephalus is a condition in which there is an abnormal buildup of cerebrospinal fluid in the brain ventricles, which can cause brain damage. The device can operate within physiologically relevant pressure ranges, monitor differential pressure continuously, and adjust pressures with minimal error.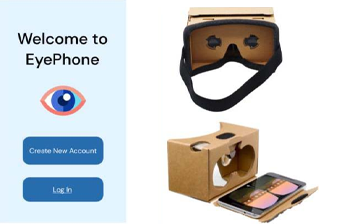 Third Prize: EyePhone, Columbia University
Lauren Sekiguchi, Allegra Campanini-Bonomi, Katherine Liu, Helen Ugulava, Anisha Tyagi
The EyePhone is a phone app to monitor the progress of glaucoma. EyePhone works in coordination with a cardboard VR headset to create a virtual reality field for at-home visual field testing. The device uses existing visual field-testing algorithms to assess a person's vision outside of a doctor's office, promoting more regular and accessible monitoring of glaucoma progression.
NIH-sponsored prizes
"We are committed to nurturing the next generation of researchers and this is why we champion competitions that leverage the intellectual capacity of young innovators. By encouraging and supporting a culture of innovation, we are paving the way for students to think outside the box and develop cost-effective healthcare tools that will improve lives, especially for underserved communities."
-Dr. Eliseo Pérez-Stable, NIMHD director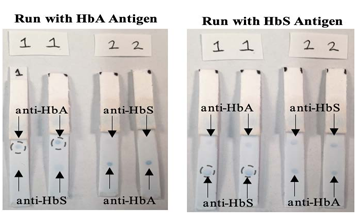 The National Institute on Minority Health and Health Disparities (NIMHD) Prize for Healthcare Technologies for Low-Resource Settings: Sickle cell disease (SCD) screening device, Lehigh University, Pennsylvania
Heidi Shen, Katie Goettle, Alice Chen, Laura Duffany, Wei Ngai, Tom Perillo, Tiffany Pang
An inexpensive, point-of-care sickle cell disease (SCD) screening device designed to be implemented in low-to-middle income healthcare settings. Modeled after the common pregnancy test, the goal is to lower the high rate of infant death due to SCD.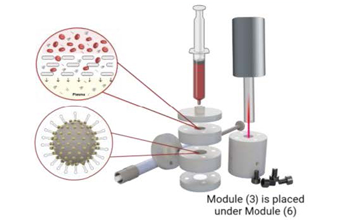 The Office of Aids Research (OAR) Prize for HIV/AIDS Research: Device for early diagnosis of HIV, Texas A&M
Sergio Gomez Avila, Nhu Vu, Tristen Gates, Charlene Pua
The 3D-printed point-of-care device designed for early diagnosis of HIV does not require advanced testing facilities which may not be immediately accessible to remote, underserved, and underdeveloped populations. It is able to target and detect miR-150, a biomarker associated with HIV.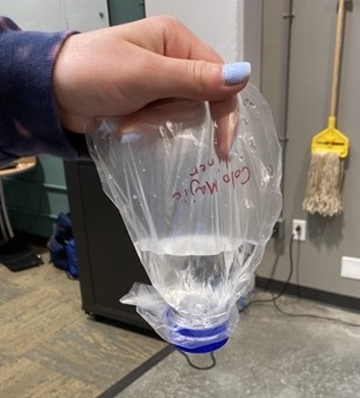 The National Cancer Institute (NCI) Prize for Technologies for Cancer Prevention, Diagnosis and Treatment Prize: LowCostomy, Duke University
Alanna Manfredini, Amy Guan, Joanna Peng, Darienne Rogers
The LowCostomy is an affordable colostomy bag that gives cancer patients access to life-saving ostomy procedures. The LowCostomy Bag is made of recycled materials including plastic water bottles and small plastic bags. It has an undetectable odor, is leak-proof (<5 mL/day), low-cost, durable (~2 weeks), comfortable, easy to clean, and environmentally friendly. It will benefit colon cancer patients after colon resection in low-resource settings.
Watch a video about this project
VentureWell-sponsored prizes
"The innovative solutions created by this year's winners demonstrate an impressive ability to identify compelling biomedical needs and design solutions for a wide range of urgent challenges in healthcare. VentureWell applauds the young innovators that were able to overcome the challenges posed by COVID19 to create these products, and the university programs that nurture and support early-stage innovators."
– Phil Weilerstein, President and CEO, VentureWell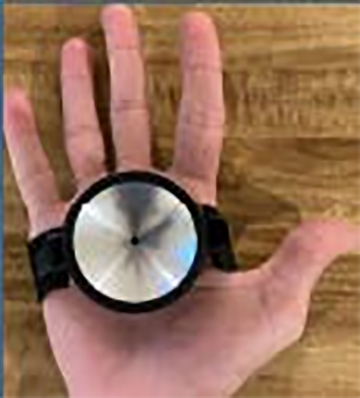 VentureWell Prize: AsculBand, Georgia Institute of Technology
Keval Bollavaram, Ram Akella, Ahdil Gill, Sil Savla, Atharv Marathe
The AsculBand is a simple and unique patient-facing stethoscope with an accompanying app that provides 50% clearer and 100% louder audio compared with leading gold standard digital stethoscopes currently used by physicians. It can send real-time and pre-recorded data from the patient's heart and lungs to physicians to help expand upon their current virtual physical exam abilities.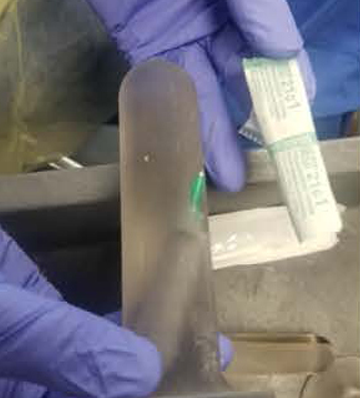 VentureWell Design Excellence Prize: Needle Delivery Tool, Stanford University
Peyton Freeman, Oluremi Akindele, Chyna Mays
A modified needle guide enables transvaginal delivery of medication to the bladder by facilitating targeting and successful injection into the bladder trigone area. The device includes an exterior needle guide that would allow for non-specialized physicians to administer medication more accurately.
NIBIB Honorable Mentions
CLOC-300: Coagulation Lab-on-Chip Device, Western New England University
Objective and Accessible Concussion Diagnosis, University of Miami
The RoboSock Post-Stroke Ankle Rehabilitation Device, Harvard University
ThermoBeat, Johns Hopkins University
DuoPouch: A calibrated, two-pouch system to diagnose postpartum hemorrhage, University of Minnesota-Twin Cities