Dynamics of Macromolecular Assembly (DMA) Section
The Section on High Resolution Optical Imaging (HROI) develops novel technologies for studying biological processes at unprecedented speed and resolution. Research includes improving the performance of 3D optical imaging microscopes, particularly with respect to resolution and depth (e.g. multifocal structured illumination microscopy, MSIM) and speed and phototoxicity (e.g. inverted selective plane illumination microscopy, iSPIM). We collaborate closely with intra- and extramural researchers (both academic and commercial) to ensure that our microscopes are both easily and widely used. Along with researchers at Sloan-Kettering (Zhirong Bao) and Yale University (Daniel Colon-Ramos), we are using one of our technologies (iSPIM) to construct the first atlas of 4D neurodevelopment in an animal.
Theranostic Nanomedicine is the medical application of nanobiotechnology and refers to highly specific medical intervention at the nanoscale for diagnosing, curing or preventing diseases. Theranostic Nanomedicine involves the creation and application of nanobiomaterials and devices at the molecular level for personalized diagnosis, imaging and therapy.
Using a multidisciplinary approach, our lab builds new systems for various nanobiomedical applications ranging from the medical use of nanoplatform-based diagnostic agents, to therapeutic agents, and even possible future applications of theranostics (diagnosis + therapy). By integrating state-of-the-art molecular imaging and nanomedicine with peptide/protein chemistry, polymer/inorganic chemistry, nanobioconjugation chemistry, cell/molecular biology as well as clinical medicine, we are developing future nanoplatforms which enable i) early detection of diseases, ii) monitoring therapeutic response, and iii) targeted delivery of therapeutic agents. Its improved practical potency highlights its potential as new personalized strategies to help improve patient management and outcomes in the near future.
The Biological Molecular Imaging Section focuses on identification of disease-specific biomarkers; development of new molecular imaging probes with cellular and molecular biology oriented techniques and methods; application of the developed probes into multimodality imaging; and collaborates with the other two LOMIN sections to characterize novel imaging or therapeutic agents, both in vitro and in vivo.
The Section of the Dynamics of Macromolecular Assembly develops biophysical methods to study protein interactions and the assembly of multi-protein complexes. Hallmarks of multi-protein complexes are multi-valent interactions and cooperativity. In the molecular machinery of cellular processes these constitute ubiquitous mechanisms for the integration and transfer of information. Therefore, our focus is on the development of approaches for multi-component systems where several different macromolecular components interact to allow association and dissociation of different co-existing complexes in different states. We are interested in the characterization of the number of assembly states, and their size, shape, and the interaction energetics. Complementary to crystallographic techniques, such solution interaction studies can provide information on the assembly principles of structurally polymorph multi-protein complexes.  
The Laboratory of Molecular Imaging and Nanomedicine (LOMIN) specializes in synthesizing molecular imaging probes for positron emission tomography (PET), single-photon emission computed tomography (SPECT), magnetic resonance imaging (MRI), optical (bioluminescence, fluorescence and Raman), contrast enhanced ultrasound, photoacoustic imaging, as well as multimodality imaging. This research group aims to develop a molecular imaging toolbox for better understanding of biology, early diagnosis of disease, monitoring therapy response, and guiding drug discovery/development. LOMIN puts special emphasis on high-sensitivity nanosensors for biomarker detection and theranostic nanomedicine for imaging, gene and drug delivery, and monitoring of treatment.

Click here for LOMIN alumni contact information
Click here to view LOMIN job opportunities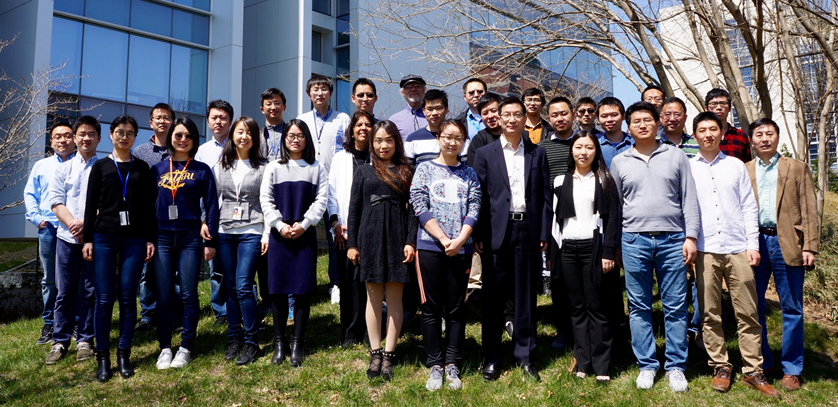 The Laboratory of Cellular Imaging and Macromolecular Biophysics (LCIMB) specializes in the development and application of cutting-edge technologies based upon engineering, mathematics, and the physical sciences, for the solution of problems in biology and medicine. It collaborates with intramural scientists, as well as proposes and develops theoretical and experimental methods important to the long-term needs of the NIH. Its unique expertise spans technologies ranging in scale from near-atomic resolution to intact organisms.
The NIBIB Section on Biophotonics develops probes and techniques for use in diffraction limited and sub-diffraction limited fluorescence imaging of cells and tissues. Major emphasis is placed on developing new and improving existing genetically encoded fluorescent proteins for use as markers and sensors. Methods and technologies include confocal, TIRF, and widefield microscopies, single molecule imaging, fluorescence spectroscopy, and protein engineering.
The Cellular and Supramolecular Structure and Function (CSSF) Section develops new methods based on electron microscopy and related techniques.  Our aim is to expand knowledge about complex biological and disease processes, as well as to characterize morphologically the action of diagnostic markers and therapeutic agents in cells.  The nanometer scale of biological electron microscopy lies between the realms of live-cell optical microscopy and atomic-scale structural tools that require extraction and purification of cellular components. Current research includes development of techniques for (1) determining the tertiary and quaternary structures of macromolecular assemblies, (2) visualizing 3D ultrastructure, (3) mapping the elemental composition of subcellular compartments quantitatively, and (4) studying bionanoparticles and their interactions with cells.  We are applying these methods to structural biology, cellular biology, neurobiology, cancer biology, and nanomedicine. 
The Biomedical Engineering and Physical Science (BEPS) shared resource supports NIH's intramural basic and clinical scientists on applications of engineering, physics, imaging, measurement and analysis.  BEPS is centrally located on the main NIH campus, and provides expertise that spans technologies ranging in scale from near-atomic resolution to intact organisms. 
Please click on the links below to learn more about BEPS's five Units:
The Micro Analytical Immunochemistry Unit of the BEPS Shared Resource specializes in the following:
Micro-immunoaffinity capillary electrophoresis to quantify analyte concentrations in biological samples
Development of novel immunoassays for microliter and sub-microliter biological fluid and tissue samples
SELEX via capillary electrophoresis to generate aptamers with specificity for protein targets
Multianalyte ELISA arrays using QuansysTM imaging system
MALDI-TOF analysis of proteins, antibodies and other biological molecules
Characterization of biological molecule interactions using Surface Plasmon Resonance (SPR)
Trace metal analysis in biological samples, via Inductively-Coupled-Plasma Optical Emission Spectrometry (ICP-OES)
We are located in Building 13 on the NIH campus. 
The Quantitative Methods for Macromolecular Interactions (QMMI) Unit of the BEPS Shared Resource is located on the 3rd floor of Building 13 on the NIH campus in Bethesda, MD. Please contact us to schedule a meeting or tour our labs.
We have expertise in:
Characterization of individual macromolecules

Characterization of interactions of macromolecules (self- and hetero association) and small ligands
The Microfabrication and Microfluidics Unit of the BEPS Shared Resource specializes in the following:
Design, fabrication and implementation of microfluidic devices
Rapid turnaround of single or multi-layer templates down to ~1.5 µm lateral dimensions
Microfabricated devices made from silicon/glass, PDMS, thermoplastics, and agarose.
Structured surface modification, including microcontact printing
Developing in vitro platforms that model tissue environments for realistic studies of cellular interactions.  Methods include microfabrication, electrospinning, hydrogel fabrication and characterization, and finite element analysis 
Our goal is close collaboration and rapid, iterative design. Although our preferred mode of operation is to disseminate microfabrication technology by having researchers from other laboratories participate actively in device fabrication, we can make templates and devices if desired. 
We are located in Building 13 on the NIH campus.
The Electron Microscopy Unit of the BEPS provides state-of-the-art instrumentation, training, and services.
The Scanning Probe Microscopy Unit of the BEPS Shared Resource specializes in the following:
Sub-nm resolution imaging of molecular complexes, supported lipid bilayers, cells, and tissues
Molecular recognition, protein unfolding
Force spectroscopy, visco-elastic properties
Simultaneous, co-localized AFM and fluorescence (including TIRF and confocal) microscopy
Mathematical modeling, finite element analysis
We are located in Building 13 on the NIH campus.
The LCIMB's Nanoinstrumentation and Force Spectroscopy (NFS) Section develops specialized instrumentations and their applications at macromolecular, cellular and tissue level in areas of biomedical research and medicine. NFS scientists collaborate closely with other intramural and extramural investigators to provide innovative approaches through biophysical modeling, mathematical analysis, and custom instrumentation primarily for nanoscale characterizations. Our current focus includes the development and applications of high-resolution and high-speed atomic force microscopy (AFM) for force spectroscopy and nanometric bioimaging of biological and soft materials. We also develop related technologies such as laser and optical technologies for spectroscopic analysis of biochemical reaction kinetics, multimodal instrumentations, and broader biomedical characterizations.
The PET Radiochemistry and Imaging Core Facility develops novel methods for incorporating radionuclides and fluorophores into molecules for the study of biologically important processes. All of our projects are in support of principal investigator-initiated research. We seek to collaborate with clinical and biological investigators who share our goal of providing new imaging tools for clinical studies and the study of biological processes. Our research efforts are driven by a desire to improve understanding of human biology and disease and to generate tools that have clinical application. We have produced probes with applications to many important biological processes, including inflammation, metabolism, proliferation, angiogenesis, metastasis, lymphogenesis, and apoptosis.
The Chemistry and Radiochemistry Section (CRS) is part of the Laboratory of Molecular Imaging and Nanomedicine (LOMIN), NIBIB. The CRS furthers LOMIN's multidisciplinary efforts to develop chemical entities and biological procedures to diagnose and treat human diseases. The CRS does this by development of: 1) chemical syntheses that create robust, selective entities to carry radionuclides and fluorophores for diagnostic imaging, 2) conjugation procedures that allow targeted delivery and specific release of therapeutic drugs, and 3) activatable probes with sensitivity to an in vivo parameter, such as pH, temperature, NO concentration, etc.
The Advanced Imaging & Microscopy Resource is a trans-NIH shared resource that houses, operates, disseminates, and improves non-commercial, prototype optical imaging systems developed at the NIH. The facilities at AIM are available for use by the entire NIH intramural research community.
AIM is a constantly evolving facility. As microscopes housed here become widely and commercially available, they will be phased out and replaced with the next generation of imaging technology.
The Section on Quantitative Medical Imaging develops methods to derive biomarkers from data acquired by non-invasive imaging techniques (such as Magnetic Resonance Imaging, MRI) that are informative about anatomy and physiology and that provide new, accurate and reliable tools for assessment of various medical conditions.