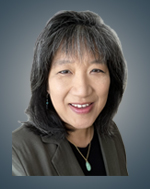 Grace
Peng
Program Director
Biography
Grace C.Y. Peng, Ph.D. is the Director of Mathematical Modeling, Simulation and Analysis at the National Institute of Biomedical Imaging and Bioengineering (NIBIB) within the National Institutes of Health (NIH) in the US Department of Health and Human Services (DHHS). In this capacity she has programmatic oversight of extramural activities in these areas.
Dr. Peng received the B.S. degree in electrical engineering from the University of Illinois at Urbana, the M.S. and Ph.D. degrees in biomedical engineering from Northwestern University. She performed postdoctoral and faculty research in the department of Neurology at the Johns Hopkins University. In 2000 she became the Clare Boothe Luce professor of biomedical engineering at the Catholic University of America. Her research focused on developing computational models of the vestibular system in control of the head and neck, and analytical tools for studying the oculomotor system in patients with vestibular dysfunction.  Since 2002, Dr. Peng has been a Program Director in the NIBIB, overseeing various programs promoting the development of mathematical and statistical modeling and analysis methods; medical simulation tools; and next generation engineering systems for rehabilitation, robotics, neuroengineering, and surgical systems. In 2003, Dr. Peng led the creation of the Interagency Modeling and Analysis Group (IMAG), which now consists of program officers from multiple federal agencies of the U.S. government.  Since 2004, IMAG has supported funding initiatives targeted to multiscale modeling of biomedical, biological and behavioral systems. Since 2006, IMAG has facilitated the activities of the Multiscale Modeling Consortium of investigators. Dr. Peng also has served in leadership roles in the NIH SPARC (2014-2016), BRAIN Initiative (since 2014), Bridge2AI Program (since 2020) and ComPASS Program (since 2022). Dr. Peng is committed to promoting the development and use of intelligent tools and reusable data and models to accelerate biomedical research and translate scientific knowledge to the clinic and community. In 2020, she was inducted into the AIMBE College of Fellows.
Watch Grace's October 2022 interview with Government Matters
CIick here to see AIMBE interview with Grace
Related activities
Keynote for the Girls Computing League NY Chapter Summit, September 2021.
NIBIB's Grace C.Y. Peng elected to AIMBE College of Fellows, March 2020.