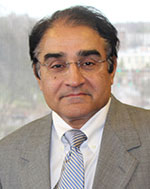 Director of Research Sciences and Strategic Directions
Acting Director, Division of Applied Science and Technology
Program Director
The Medical Imaging and Data Resource Center (MIDRC) is a collaboration of leading medical imaging organizations launched in August 2020 as part of NIBIB's response to the COVID-19 pandemic.  MIDRC aims to develop a high-quality repository for medical images related to COVID-19 and associated clinical data, and develop and foster medical image-based artificial intelligence (AI) for use in the detection, diagnosis, prognosis, and monitoring of COVID-19.  
NIBIB joined with the American College of Radiology (ACR), the Radiological Society of North America (RSNA), the American Association of Physicists in Medicine (AAPM), and the University of Chicago to create this free resource for researchers to use in the development of AI and deep learning tools and serve as a reference to enhance clinical recognition of COVID-19. Imaging data is contributed to MIDRC from multiple clinical sites throughout the country.  
Learn more about MIDRC.
Access to the MIDRC data commons is now open. 
Partners
International Society for Optics and Photonics (SPIE)
America Society for Neuroradiology (ASNR)
American Institute of Ultrasound in Medicine (AIUM)
Academy for Radiology and Biomedical Imaging Research
Society of Imaging Informatics in Medicine (SIIM)
Outcomes
>150,000 imaging studies collected 
>105,000 imaging studies released to the public
24 algorithms in development
234 data users
Funding Opportunity
RSNA is inviting proposals for funding to help researchers gather and submit data to MIDRC. This funding opportunity if open to all levels of U.S.-based investigators and will support recipients in selecting, processing, and submitting data to MIDRC. Awards may be up to $38,000 for one to two-year projects. Applications are being excepted until all available funds are awarded. 
Related News & Events
Researchers have found that AI models could accurately predict self-reported race in several types of medical images, suggesting that race information could be unknowingly incorporated into image analysis models.
After less than two years of data collection and processing, RSNA has successfully delivered over 30,000 de-identified imaging studies to the Medical Imaging and Data Resource Center (MIDRC) project, an open-access platform which publishes data to be used for research. MIDRC is funded by NIBIB. Source: RSNA News

The Medical Imaging and Data Resource Center (MIDRC), a collaboration of leading medical imaging organizations funded by NIBIB, has launched a repository of imaging data to facilitate medical imaging research on COVID-19.