Press Releases
September 21, 2023
Grants continue support of Point of Care Technology Research Network
The National Institutes of Health will advance the development of home-based and point-of-care health technologies with awards to six technology research and development centers around the country. The centers comprise the Point of Care Technology Research Network (POCTRN) and will parlay the momentum of the original network established in 2007 by the National Institute of Biomedical Imaging and Bioengineering (NIBIB). In the first year of the new five-year grant period, these six centers will share $9.6 million in total awards.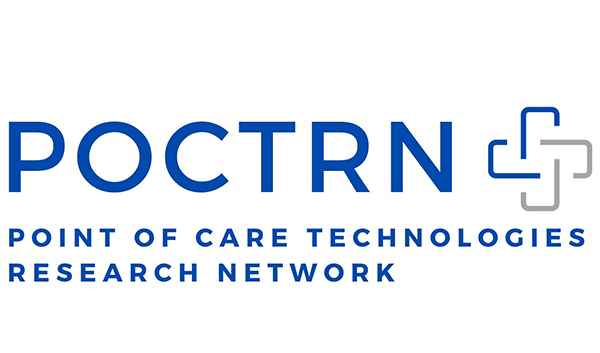 Through technological advances, health care can be delivered closer to the patient, leading to more timely and convenient care and ultimately better outcomes. The POCTRN model builds multidisciplinary partnerships that drive the development and application of technologies needed to achieve this goal. Awarded centers focus on the development of innovative point-of-care devices for unmet medical needs in the United States and worldwide.
"NIH and NIBIB have long played an important role in guiding and supporting innovative health technologies," said Bruce J. Tromberg, Ph.D., director of NIBIB. "As POCTRN demonstrated during the COVID-19 pandemic, point-of-care and home-based technologies are more accessible to populations in low-resource settings and, therefore, serve a democratizing function in the health care sector."
POCTRN technology research and development centers address a range of unmet testing, monitoring, and treatment areas, such as heart disease, cancer and HIV/AIDS, in a spectrum of settings, from child health to global health. Key to this approach is incorporating clinical and user needs in the technology development process while addressing early barriers to commercialization and implementation. In an extraordinary adaptation of its charge during the COVID-19 pandemic, POCTRN was expanded to create NIBIB's Rapid Acceleration of Diagnostics (RADx®) Tech program, which delivered 8 billion COVID-19 tests to the nation and shifted testing from central labs to the home and point of care. Having facilitated the transformation in at-home and point-of-care diagnostics for COVID-19, POCTRN will apply this experience and expertise to a broad range of health care needs.
"The POCTRN network has become a standout award mechanism for NIBIB and several other NIH institutes that recognize the empowering nature of point-of-care technologies," said Tiffani Bailey-Lash, Ph.D., director of NIBIB's POCTRN program. "Centers within the network are known for impactful technology designs, and supported projects receive specialized expert guidance to overcome a variety of tech development pitfalls, giving them the best chance for success."
The following centers comprise the fourth cycle of POCTRN awards:
Center for Advancing Point of Care in Heart, Lung, Blood and Sleep Diseases (CAPCaT), University of Massachusetts Chan Medical School, Worcester, and University of Massachusetts at Lowell
Principal investigators: Bryan Buchholz, Ph.D.; Nate Hafer, Ph.D.; and David McManus, M.D.
CAPCaT will develop and optimize novel point-of-care and home-based technologies to improve the diagnosis and management of heart, lung, blood and sleep disorders.
Center for Innovation and Translation of Point of Care Technologies for Equitable Cancer Care (CITEC), Rice University, Houston
Principal investigators: Sharmila Anandasabapathy, M.D.; Rebecca Richards-Kortum, Ph.D.; and Tomasz Tkaczyk, Ph.D.
CITEC will accelerate the development and adoption of new technologies that can be used to improve the early detection of cancer in low-resource settings in the United States and globally.
Point of Care Technologies for Nutrition, Infection, and Cancer for Global Health (PORTENT), Cornell University, Ithaca, New York
Principal investigators: David Erickson, Ph.D.; and Saurabh Mehta, Sc.D.
PORTENT will focus on primary health care globally, address the needs of the most vulnerable in the United States and internationally, and enable a broad range of diagnostic technologies to be validated on a global scale while simultaneously developing expertise and building testing capacity worldwide.
Center for Innovative Diagnostics for Infectious Diseases, Johns Hopkins University, Baltimore
Principal investigators: Yukari Manabe, M.D.
This center will accelerate innovation and access to infectious disease diagnostic point-of-care technology to impact global public health.
Center for Innovation in Point-of-Care Technologies for HIV/AIDS and Emerging Infectious Diseases at Northwestern University (C-THAN), Evanston, Illinois
Principal investigators: Chad Achenbach, M.D.; Sally McFall, Ph.D.; and Robert Murphy, M.D.
C-THAN's technologies include point-of-care devices for detection of infection and monitoring of HIV/AIDS and its common potentially fatal coinfections and comorbidities, including tuberculosis, non-tuberculous mycobacterium, hepatitis B, hepatitis C, and HIV-associated malignancies.
Atlanta Center for Microsystems Engineered Point-of-Care Technologies (ACME POCT), Emory University and the Georgia Institute of Technology
Principal investigators: Wilbur Lam, M.D., Ph.D.; Gregory Martin, M.D.; and Eric M. Vogel, Ph.D.
ACME POCT assists and enables inventors from across the country who have developed microsystems-based point-of-care technologies in defining their specific clinical needs, conducting clinical validation, and refining their technology with the objective of accelerating the path to translation and clinical adoption.
Coordination among all the centers is led by CIMIT under a contract with NIBIB. Each center will use a milestone-driven approach to focus resources on the development of technologies that demonstrate the highest chance of success.
This year's POCTRN awards represent an expansion of the program with support from multiple NIH Institutes, Centers, and Offices. Besides NIBIB, NIH components that support POCTRN centers include the National Heart, Lung, and Blood Institute, the National Center for Complimentary and Integrative Health, the National Institute of Allergy and Infectious Diseases, Fogarty International Center, the Office of AIDS Research, the Office of Behavioral and Social Science Research, and the Office of Disease Prevention.
# # #
About the National Institute of Biomedical Imaging and Bioengineering (NIBIB): NIBIB's mission is to improve health by leading the development and accelerating the application of biomedical technologies. The institute is committed to integrating the physical and engineering sciences with the life sciences to advance basic research and medical care. NIBIB supports emerging technology research and development within its internal laboratories and through grants, collaborations, and training. More information is available at the NIBIB website: https://www.nibib.nih.gov.
About the National Institutes of Health (NIH): NIH, the nation's medical research agency, includes 27 Institutes and Centers and is a component of the U.S. Department of Health and Human Services. NIH is the primary federal agency conducting and supporting basic, clinical, and translational medical research, and is investigating the causes, treatments, and cures for both common and rare diseases. For more information about NIH and its programs, visit https://www.nih.gov/.
NIH…Turning Discovery Into Health®