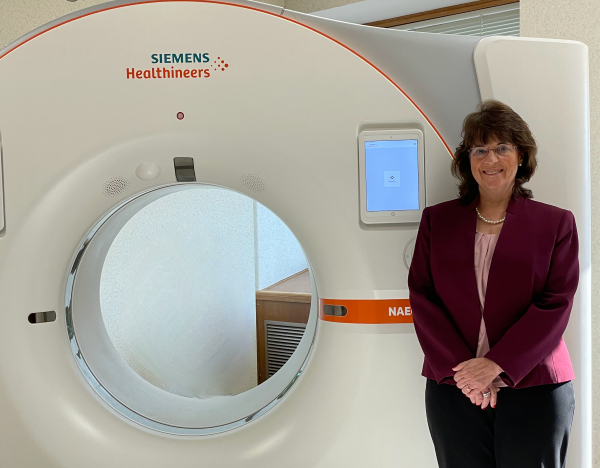 Finding her path to medical physics and research 
Sometimes it's the challenge that draws you in. For Cynthia, a world-renowned leader in computed tomography (CT) technologies, the challenge was physics. "I've always liked to solve problems, and solving physics problems gave me the most satisfaction," she said. That's why she decided to pursue physics in her college and graduate studies—because it challenged her the most. 
Now Cynthia is the director of Mayo Clinic's CT Clinical Innovation Center. She's a professor of both medical physics and biomedical engineering at Mayo Clinic College of Medicine and Science in Rochester, Minnesota. She has authored over 400 peer-reviewed publications related to CT imaging and has been named a fellow of numerous professional societies. Her influence in the field of CT development and evaluation is unmatched.  
Cynthia's love of science started at a young age. Her mother worked for a physician, and she remembers being fascinated by the world of medicine while growing up. But it was Cynthia's love of problem solving that ultimately led her to a career in research. She's always liked the challenge of unravelling a scientific puzzle and then seeing what new questions emerge. "I've realized that's the definition of a researcher." 
Shaping the field of CT while building her team 
Cynthia began her career at Mayo Clinic in 1991 as a clinical scientist where she helped her radiologist colleagues solve CT-related problems. She supported several clinical trials related to CT screening, including screening for coronary artery disease, lung cancer, and colon cancer using low-dose CT techniques. "This was my first experience working on NIH-funded research grants and being part of a multi-specialty team. I loved it," said Cynthia.  
After a few years, her skills were in such high demand that she needed a small team to help with the workload. "I never imagined I would need grants and funding to support a team of people," she said. "Now I have an interdisciplinary team of more than 30 people."  
As the size of her team grew, she started taking on graduate students and the focus of her research broadened. "When you support trainees, you want them to take ownership of their research, which happens when they work on a project that interests them," she explained. "This really widened the range of research in my lab — all the projects involve CT, but we work on coronary disease, musculoskeletal disease, kidney stones, and phase-contrast CT to name a few." 
The impact of mentorship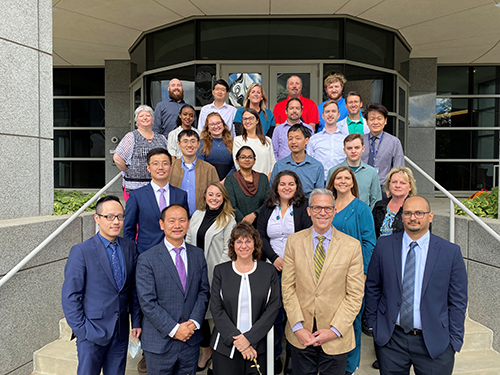 Mentorship, both as a mentor and mentee, has had an immense impact on Cynthia's scientific journey. She admits that she's been extremely fortunate to have outstanding mentors that have helped her advance in various stages of her career.  
While pursuing her undergraduate degree in medical physics, her mentor always challenged her with difficult physics problems. At the time, she was resistant about the prospect of going to graduate school, and they often debated why it would be a good path for her. In retrospect, Cynthia questions if she would have gone to graduate school without his encouragement. In graduate school, her advisor taught her to think logically while problem solving. And once Cynthia started at Mayo Clinic, the clinical physicist that hired her taught her how to navigate the professional world, stand up for herself, and handle unfair treatment. "Most importantly, each mentor was really invested in me and my success. Having that kind of support is monumental for a female in science," she said.  
She also expressed that being a top-tier mentor herself is a priority—and that she enjoys it immensely. "When I look back on my career, I will think about projects that I enjoyed, but what's most important and impactful is my students and postdocs," she said. "Now, these scientists are all out in the world, and I had a small part in their life. When I'm retired and my papers are long forgotten, my trainees will still be contributing to the next generation of scientists. Ultimately, the best moments in my career have always been attributed to a person, not a project." 
The evolving world of women in science 
While researching for a speech Cynthia gave when she was president of the American Association of Physicists in Medicine in 2019, she found that 23% of medical physicists were women, which is a big increase from when she began her career. But it was even more intriguing that at the time, 40% of the new people coming into the field are women or identify as women, while only 5% of retirees are women. "You can really see the shift happening, and see that women are catching up," she said.  
 While she believes we've made phenomenal progress with women in science careers, Cynthia acknowledges that there is still work to be done. She stressed that we are leaving a lot of potential on the table. "To be a successful scientist, you should not have to fit the typical male model of success," Cynthia said. "We need to support women with more childcare opportunities and options to bring infants to science conferences. Being a scientist and a mother at the same times needs to be normalized."   
Through self-reflection of her own experiences and observation of others, Cynthia has noticed that when a man and woman are asked the same question at the same time, women can tend to be less confident while men are sometimes overly confident. Even if the woman comes to a better solution, her initial hesitation and insecurity may set her back. "My advice for women in science careers is to trust their instincts, believe in themselves, and to speak up."