Trailblazer Gordana Vunjak-Novakovic, Ph.D., expertly manipulates a cell's environment to change its behavior and function. In the context of health, she uses cells to regenerate damaged tissue or to build models of disease for drug development. She said her passion was always medicine, but she also had an interest in engineering because she grew up watching her father, an engineer, and she loved hearing him talk about his work.
Now, Dr. Vunjak-Novakovic is a University Professor, the highest academic rank at Columbia University, and the first engineer at Columbia to ever receive this distinction. She is also the Mikati Foundation Professor of Biomedical Engineering and Medical Sciences, and a faculty at the College of Dental Medicine, Irving Comprehensive Cancer Center and Center for Human Development. She directs Columbia's Laboratory for Stem Cells and Tissue Engineering that is focused on engineering human tissues for regenerative medicine and studies of disease.
Dr. Vunjak-Novakovic received her bachelor's, master's, and doctoral degrees in chemical engineering from the University of Belgrade in Serbia, where she was a faculty member until 1993. "When I was starting my research program at Belgrade, regenerative medicine did not even exist. My research did not stimulate me, and I knew I needed a change," she stated. Her department encouraged her to find research that compelled her, so she applied to a Fulbright Fellowship in search of inspiration to pursue a new, exciting research field. She was awarded a Fulbright Fellow at Massachusetts Institute of Technology's (MIT) Harvard-MIT Division of Health Sciences and Technology to study a new biotechnology method that produced drugs.
As a Fulbright Fellow in Boston in what she described as a serendipitous event, she met the renowned scientist, Robert S. Langer, Sc.D. Dr. Langer is a pioneer in non-invasive, controlled-release drug delivery systems and regarded as the founder of the tissue engineering field. He has been a National Institute of Biomedical Imaging and Bioengineering (NIBIB) grantee for more than ten years.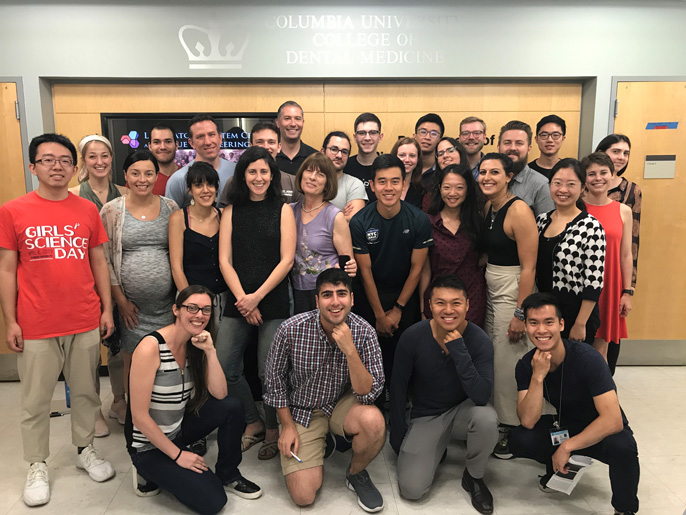 After their unexpected meeting, she said they continued to discuss research, and she started working with him on bioreactors for blood purification. Quite surprisingly, the multiphase systems she studied for her Ph.D. turned out to provide a basis for bioreactors with a suspension of carrier particles with immobilized enzymes that can be perfused with blood to remove specific substances, such as heparin. This was a perfect match for her chemical engineering training and the biological and medical research she was most interested in. She said, "Dr. Langer's enthusiasm for science was infectious and one of the many reasons we have continued to collaborate throughout our careers."
She returned to Belgrade after the one-year fellowship ended but found herself traveling back to MIT three to four times a year to continue her work with Dr. Langer. On one of her trips, he asked her to consider another sabbatical because he was about to launch research into a new field called tissue engineering. "Tissue what?" she responded. She had never heard those two words in the same sentence. "The moment I learned what tissue engineering meant, I knew this was the perfect research for me. At the time, I had no idea my background in chemical engineering would lay the groundwork for building bioreactors, which became my niche." With the creation of tissue engineering, she was able to combine her two passions – engineering and medicine effectively.
As a pioneer in the bioreactor field, Dr. Vunjak-Novakovic leads the Tissue Engineering Resource Center at Columbia, funded by NIBIB. Since 2008, she has held numerous grants with NIBIB. She was the first woman engineer to deliver the prestigious Director's Lecture at the National Institutes of Health. Throughout her career, she has published 400 scientific papers and 70 book chapters and authored three books on tissue engineering. Impressively, her impact factor of 120 has made her one of the most cited scientists of all time in any discipline. Her hard work and accomplishments have spawned four companies to help translate her research into practical technologies.  The impact of her research is also seen from her elections to the American Institute for Medical and Biological Engineering, Academia Europaea, National Academy of Engineering, National Academy of Medicine, National Academy of Inventors, and the American Academy of Arts and Sciences.
When asked about her most significant professional contribution, she quickly answered, "My students. As a mentor, my greatest reward and impact are to train the next generation of scientists. My past trainees have their successful labs and students, or non-academic careers. Mentors are only as good as those they train." As an advisor, one of her goals was to challenge her trainees to think critically, dream big, and do something they are passionate about, as these are vital ingredients in any career.
She credited her successful career to her efforts to collaborate with other researchers, another lesson she works to instill in her scholars. "I work a lot with clinicians and scientists from other disciplines. Many different disciplines converge in tissue engineering, and it has been crucial in my work to step out of my zone of comfort and benefit from entirely new concepts and perspectives," she elaborated. Several of Dr. Vunjak-Novakovic's trainees have continued their academic research in leadership roles at her companies.
"When my students move from the lab to my company, they have a vested interest in the company and its technology that they have developed while working on their thesis projects. Their passion and drive increase our chances of success."
When asked about her perception of the evolution of women in science, she stated, "I am elated to witness firsthand the growing number of women in science and engineering." She remembered when it was common for her to be the only woman in the room when she first entered the academic world. Now she is surrounded by other women in leadership roles and hopes the support for women in science and engineering continues. "Women have a lot to contribute to leadership positions, and many institutions have made a serious effort to fill high-level positions with women," she observed.
"However, the leaky pipeline is still around, especially after postgraduate work," stated Dr. Vunjak-Novakovic. She maintains that it is crucial to continue ongoing efforts to recruit and keep women in science and engineering fields. "Women need to be encouraged to take on serious roles and not be concerned about being disadvantaged because of their gender. At times, she felt challenged in her career but never disadvantaged because she was a woman. However, she felt there was more pressure as a woman raising her family in an academic world. Many people asked her why she didn't choose a humanities major over chemical engineering. "It's important not to focus on questions like that. Be comfortable with being different," she said.
She deems it most important to follow your true passion and find strong role models along the way. She advised future women scientists and engineers, "Don't be afraid to be persistent and stubborn. Continue to dream big because big ideas are transformative."
Find more inspiring stories from NIBIB's women grantees at the WISE homepage.