Innovator Quyen Nguyen chose to pursue an M.D., Ph.D., program because she wanted to aid patients at the one-on-one, patient to doctor level, and through research contributions that could be more far-reaching. She described herself as a visual learner with a strong interest in science and art. These combined interests gave her a natural affinity to look for visual, tactile, science-related challenges. Now, Dr. Nguyen is a Professor in the Department of Surgery at the University of California-San Diego (UCSD) and the Associate Director of Training and Education at the Moores Cancer Center.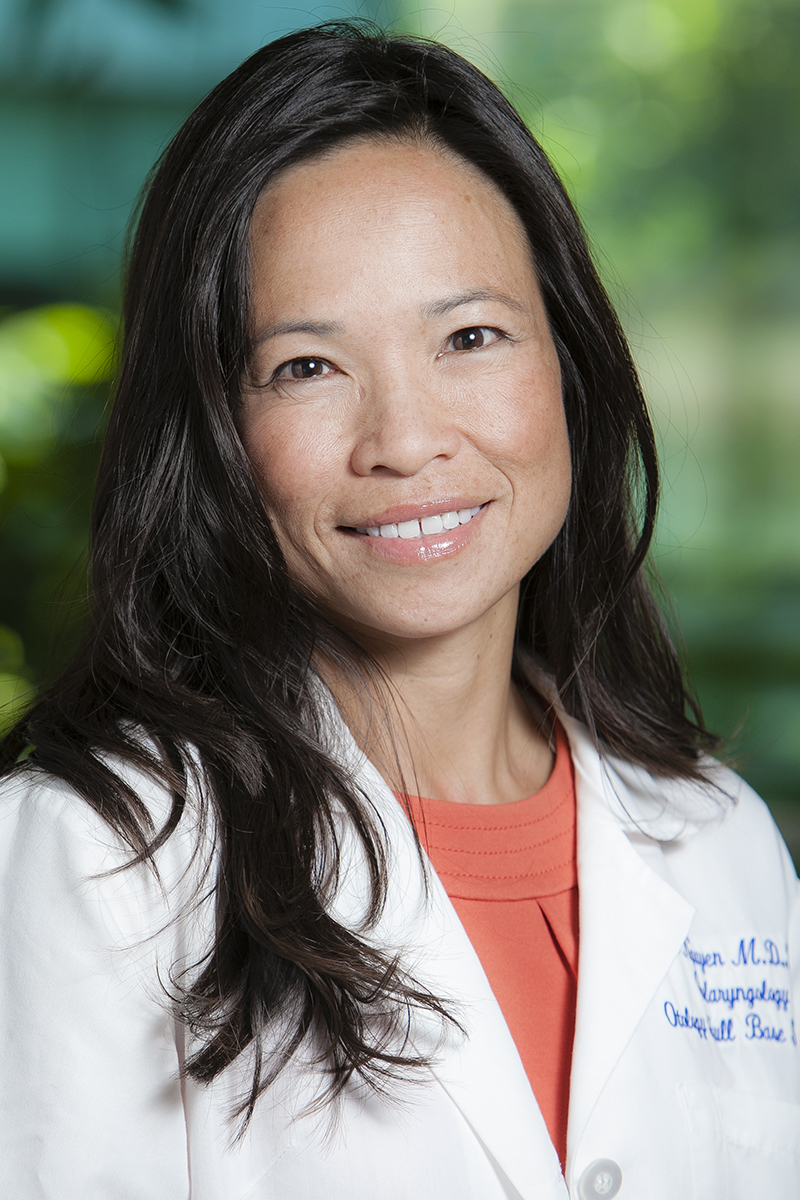 Dr. Nguyen completed her pioneering doctoral work with Jeff Lichtman, M.D., Ph.D., at Washington University where she also obtained her medical degree. She developed an imaging system to visualize nerve regeneration following injury, using mice that express fluorescent genes allowing their neurons to glow green. "It never got old looking under the microscope and seeing those nerves glowing," reminisced Dr. Nguyen. 
"Dr. Nguyen has created molecular agents that have the potential to transform surgical outcomes. Inadvertent cutting of nerves during surgery can cause further injury and loss of function. Having the ability to better visualize nerves during surgery can prevent these unintended consequences, thus improving patient outcomes and recovery times, and reducing healthcare costs," said Tatjana Atanasijevic, Ph.D., manager of the NIBIB program in Molecular Probes and Imaging Agents.
While performing a facial surgery at UCSD during her residency training, she began contemplating the idea that a surgeon's job would be made easier if a patient's nerves glowed during surgery. In 2001, she started a collaboration with Nobel Laureate Roger Tsien, Ph.D., at UCSD, developing "color-coded surgery." Together they created two injectable molecules. The first molecule was a tumor marker now in Phase II clinical trials, and the second molecule, starting clinical trials soon, illuminates nerves. She feels that being an end-user of the molecular agents she created informed her vision of what surgeons needed. 
The National Institute of Biomedical Imaging and Bioengineering (NIBIB) has supported her exceptional research for more than ten years. In addition to her numerous research accomplishments, Dr. Nguyen received the Presidential Early Career Award for Scientists and Engineers by President Barack Obama in 2014. She has founded a company named Alume Biosciences, Inc, with the goal of translating nerve agents that are developed in the lab to aid physicians in visualizing nerves to the operating room. She delivered a compelling TEDMED talk in 2011 about the development of "color-coded surgery" that has been viewed more than one million times.
"I'm excited about the road ahead of me. I truly feel I haven't yet accomplished everything I have to give, nor achieved my greatest success," exclaimed Dr. Nguyen. She hopes the molecules she creates prevent surgical injuries and positively influence patient outcomes. 
Dr. Nguyen says she has never felt held back by being a woman in science and medicine. She stated that continuing conversations about gender equality and identity are important, starting at young ages. These open conversations build a safer world for people to pursue their ambitions, she believes. She has found value in not feeling diminished.
"At the end of the day, it is vital to let your passions drive you, and that makes it easier when things get difficult," she exclaimed.
She recalled in her earlier years of medical training being one of the few women with mostly male teachers. A part of the prepping for surgery is to change into scrubs, and the male students would have more access to their instructors during that time to build relationships. She said it was imperative for her not to focus on the missed moments and keep her eye on the opportunities she was given. 
Dr. Nguyen is optimistic and thinks the future for females in science and engineering is promising. She has three girls of her own and has observed firsthand the effects of supporting young girls to pursue their interest in science, and she emphasized the positive impact that encouragement from everyone has on young minds. "Don't become discouraged by thinking about anyone else being better at something you want to pursue; just remember the positive and why it matters to you."
Find more inspiring stories from NIBIB's women grantees at the WISE homepage.