Bhaskara Chikkaveeraiah, Ph.D.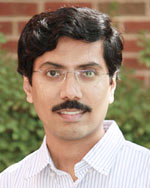 BG 10 RM B2C315 10 CENTER DR BETHESDA MD 20814
Biography
Dr. Chikkaveeraiah received his Master's Degree from the Department of Chemical Engineering at Lamar University in Texas in 2005 under the supervision of Professor Shyam Shukla. Later, he joined Professor James F. Rusling's bioanalytical Section at the University of Connecticut's Department of Chemistry as a Ph.D. student. Chikkaveeraiah's Ph.D. project involved developing electrochemical immunosensors for detecting cancer biomarkers in collaboration with Drs. Silvio Gutkind and Vyomesh Patel at the National Institute of Dental and Craniofacial Research (NIDCR), NIH. Chikkaveeraiah's research involved surface functionalization of carbon nanotubes, magnetic particles, and developing microfluidic immunosensor for cancer biomarker detection by electroanalytical methods. After obtaining his Ph.D. in 2011, he joined NIBIB where he has since been a member of the Laboratory of Molecular Imaging and Nanomedicine (LOMIN). His current research is focused on fabricating microfluidic devices for diagnostic applications, and monitoring cellular uptake of nanoformulations using quartz crystal microbalance with dissipation monitoring (QCM-D).