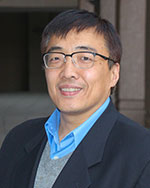 Program Director
Bio-electromagnetic program supports development of technologies using static or dynamic electromagnetic fields for sensing, imaging, or therapeutic effects.
Emphasis
The emphasis is on increasing the sensitivity, spatial/temporala resolution, efficacy, or safety of bioelectromagnetic devices through the development of novel hardware, method of operation, or pre-/post-processing techniques for single modalities or the combination of multiple modalities.
Support
This program may support the development of magnetic particle imaging, electrical impedance tomography, electroencephalography, magnetoencephalography, electromagnetic-field-induced hyperthermia/ablation, and microwave/terahertz imaging, for example.
Related programs are MRI, Nuclear Medicine, Optical Imaging and Spectroscopy, Ultrasound, and X-ray Electron and Ion Beam.